It's always daunting to start a new thread on an established forum, but what the heck ... welcome to my work in progress thread for stalled projects, and very occasionally finishing figures to a "eh, it'll do" standard.
Traditionally I've been more a painter than a gamer, but that's tilted the other way in the last couple of years as we formed a small gaming group and have started regular tabletop gaming sessions. Currently our miniature-heavy game of choice is Guild Ball. We're especially loving the skirmish format and how it can suddenly shift from a swift, tactical battle of wills to something more attritional with just one or two kicks of the ball.
However, as the only painter in the group, I'm on duty when a new set of figures comes along. So, we had to start somewhere and Fishermen were requested as a favourite of two players. For anyone unfamiliar with the game, the Fishermen look like this ...
Left to right: Angel, Salt (otter), Kraken, Shark, Greyscales, Jac and Siren. They don't come pre-painted or fully assembled, so you have a bit of work to do before they're looking as handsome as that. So here's a shot of where mine are ...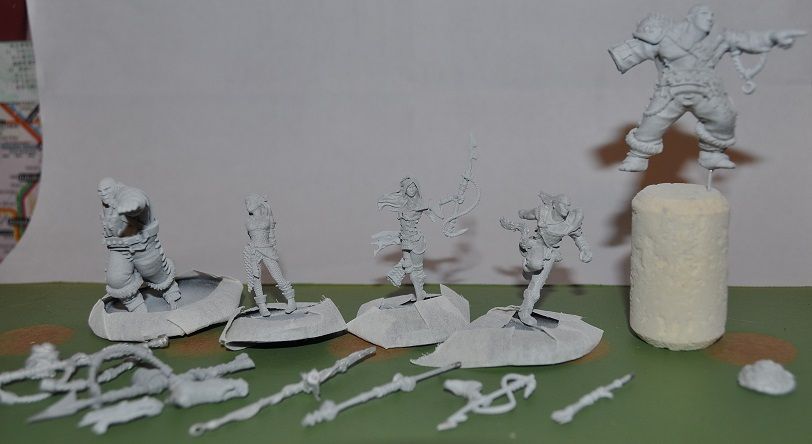 They're now primed and the above shows Kraken (from Salute), Salt (comatose and out of focus), Angel, Siren, Shark and original Kraken. I don't own Jac, so he's missing. Greyscales' leg is only freshly pinned and glued so he's not in the picture, and Salt's tail ... well, currently he's going to be built without it as punishment for being a total %!*$, frankly. There is a level of finesse to handling some of these components which isn't compatible with my lack of dexterity.
These sculpts are so fine, and have so much detail it's a little intimidating. I bought corks to temporarily pin and base all the figures while painting, but some models are
that
slim on the ankles that it would be a terrible trial to attempt this, and only original Kraken required it in the end. I won't do final assembly until as near to the end as possible to give me a fighting chance of getting a paintbrush in to some of the details.
With a little time off work this week, next up will be choosing the primary colour and getting the bases out the way.