Welcome to my WIP thread. The contents of which will vary, but will mostly track my attempts to put paint onto various metal, plastic and resin figures in a 28mm scale. Anything completed will probably only come to a tabletop standard at best, but as a gamer at heart, that is good enough for me. My attention span is short at best, so I tend to have multiple projects on the go at the same time (my attention span is so short it took me 4 or 5 goes to get everything into notepad for this post).
I like inks and washes as they hide a multitude of sins and sloppy painting skills. I recently got some Games and Gears double ended brushes so hopefully they will help me slightly.
The painting space, complete with distractions
Some models that I have done previously - (haven't completed anything in about a year, only picked up my brushes again in June, and some of these are a lot older than that.)
Lord of the Rings Wood Elf Captain
40k - C'Tan - Probably more work to be done on this, but he sits on top of my tv unit as he is.
Malifaux - Taelor - Basing is required.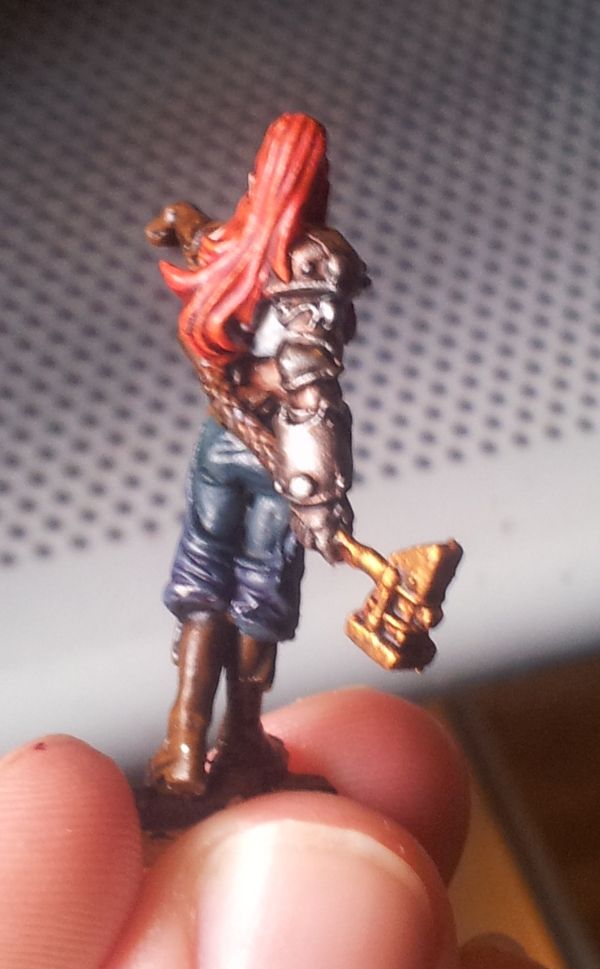 40k - Dusk Raiders Scouts - The Dusk Raiders are an "Off-white" and I took that to be a light creamy white, but decided that scouts might be a bit darker so gave everything a drowning in devlan mud.
40k - Guard Sentinel - A slightly dress guard style colouring, with everything being a medium to dark red with space wolf/fenris grey trim
Fantasy - High Elf Noble with Standard - Again to show army colours, this is a red with white, rather than the standard elfy white with whatever. Painted back in 07 (I think) with the plastic noble release.
Fantasy - High Elf Swordmaster - the only member of a 35 man unit to be finished, more on the way
40k - Soul Drinkers Vanguard Veterans - After a lot of misfires with marines I settled on Soul Drinkers (An Imperial Fists sucessor chapter, the focus of the books by Ben Counter) and took them in a slightly different direction, along with going for a metallic armour style. The guy second from right is Tellos, he got his hands lopped off early on in the books and replaced them with swords.
40k - Imperial Guard Officer
40k - Deathwatch style Sternguard Squad - To play with different metallic styles I decided to have a sternguard squad made of Deathwatch guys. However, there are still 8 left to build
40k - Metallic Marines - A WIP Soul Drinker Librarian and a Salamander who is part of the vanguard unit. These were really done just to play with different washes to see how they turned out. The Sally is probably my favourite of the non Soul Drinker styles which I might be tempted to pursue in the future.
40k - Metallic Marines - An Impieral Fist (this time yellow ink instead of wash) and a Blood Angel that didn't quite work out so well. He might work better with Carroburg Crimson now, rather than the Baal red that was used at the time
40k - Grey Knights Vindicare Assassin - My 1500 point GK list is based around the Grey Knight series by Ben Counter, and from memory, this is the only figure that doesn't actually come from the book (the rest are (I think) Inquisitor, retinue of Death Cult Assasins, 2 standard squads, a squad of Paladins and a heavy squad)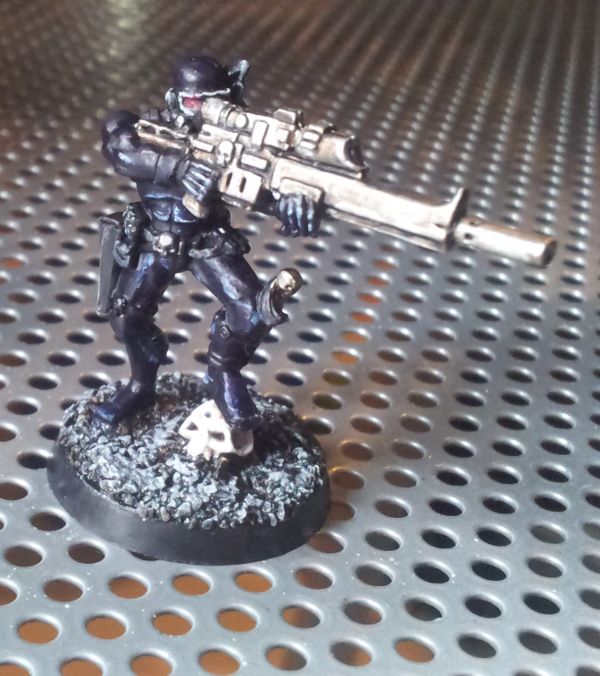 Lord of the Rings - Ringwraiths - I use them as Wraiths for my Vampire Counts (Or I did when I used them, still havent picked up their new book).
Fantasy - Vampire Counts Wraiths - Done about a year before I did the Ringwraiths, I doubt I could work up the colour of the cloaks again due to there being so many different inks and washes in different amounts of layers on them.
Fantasy - Daemonette - A single daemonette, me and a couple of mates picked up the final pack we could find of the metal ones before they changed to plastic and took one each.
List of things to do
Warhammer
High Elf Army (3000pt army planned, probably closer to 6000pts)
Vampire Counts Army (unknown, was 2000 under 7th ed)
Lizardmen Army (unknown, was 2-3000 before 7th ed)
IoB Skaven (Haven't the foggiest)
40k
Soul Drinkers/Imperial Fists (Havent a clue of points total, have managed to clock it in at 10k a couple of times but that always seems to change as other units are requisitioned for different projects)
Dusk Raiders (Pre-primarch Death Guard) (Early stages, no points total yet)
Imperial Guard (1500pts + Baneblade)
Grey Knights (1500pts)
Other
Malifaux - The Viktorias
The Hobbit - Escape from Goblin Town box set
Assorted other GW stuff
Hansa from DSC (Gates of Antares) and Warlord Games
From Hasslefree - A Strumpet, a Barwench, Witch Hazel, Morgan, Maria, Liralith and Imogen without wings.
Coming soon
Empire Of the Dead - Requiem - Westwind
Mantic - Loka
Hopefully some actual current WIPs will follow, but I figured that this would be a good start in showing what I have done before, but not necessarily where I am at the moment. I've just graduated from University so haven't really been close to finishing a model for the past year or so.
Side note - My pictures are taken with my phone's 8mp camera, since my last one died of natural causes some time ago. Since I haven't been painting much it hasn't been a problem, but now I'm taking pictures again, a camera is something I am looking for. So for now, apologies for poor pictures :)