So I am in the process of making an angelic/crusading-themed bretonnian army. The story I have come up with is this: A small band of knights who have forsaken the Lady and are outcasts. They are led by a knight who had a vision of a utopia shown to him by a bright winged being. He and his knights have been joined by a fanatic band of warrior-monks (battle pilgrims). The other half of the army are the angels (the bright winged beings) who represent pegasus knights and characters riding royal pegasi (I'm not sure of the plural of pegasus). I am almost done the knightly units, I have 3 units which are based on knightly orders from the crusades: templars (red and white), teutonic (yellow and white) and hospitaliers (black and white). I'm not really going for historical accuracy here so the movie "Kingdom of Heaven" was my main inspiration! The battle pilgrims are going to be lugging around a cross (the grail reliquae) similar to the one that the army of Jerusalem carried with them in the movie.
Now that I've completely bored you with a lot of words here are the shiney pictures! Please don't hold back with your comments/criticism!
Test model for the black Hospitalier unit:
Knights Templar with the army standard bearer (the red one):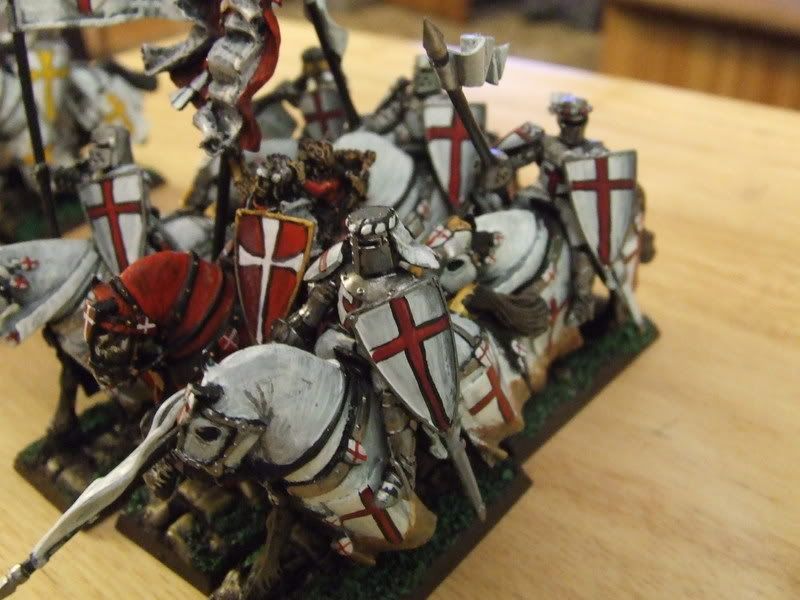 Teutonic Knights (just need to finish off the musician and they are done):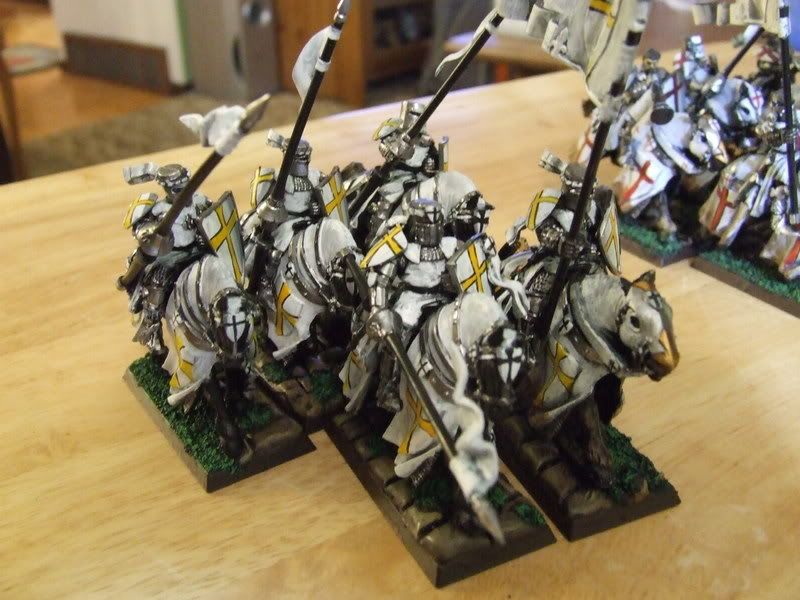 The white and black cloth were new for me. Before this if I wanted something white I painted it white, one coat and moved on. Here I tried some blending with greys and it worked pretty well. If I was to do it again and time was no issue I'd probably put more layers into them, but as it is I'm pretty happy with the results. Only 5 more knights to paint and then I'm on to the 30 or so battle pilgrims!