I hope this will prove to be of help with people struggling to make a realistic looking blood. The solution of using real blood is out of question in this instance (although I remember reading that some place..anyways..).
Tamiya produce a series of clear paints, i.e., paints that will dry up in an almost crystalline transparent film. This series is mainly used in painting airplane lights etc in scale models.
The paint in question here is the Tamiya X-27 clear red.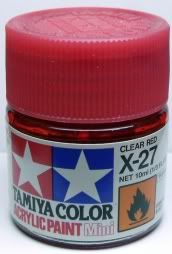 The paint is quite thick in consistency and dries up to an almost glassy finish. As you can see in the picture below a drop of this looks quite bright red in colour but it has a nice fluid transparency.
The trick here is to add darker colours in it and produce various tones of coagulated blood. You see blood does not stay bright red for more than a couple of minutes anyway, and as soon as it touches the air it starts oxidising to a rusty colour. This is in truth the actual process as the iron contained within red blood cells starts to oxidise in contact with air, and when we combine air with iron we get rust.
You can add anything from brown, black or even purple to get different shades of blood, as you can see in the picture.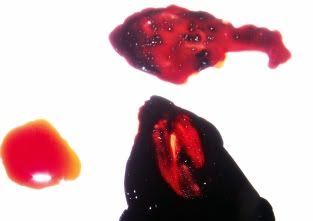 Given the fact that there is usually a thickness difference in the pigments of the clear red and the colours we use to colour it, a nice effect of blobs and such appears as seen above. The process is quite simple, use the paint as is or mix it up in order to get the shade of blood you like. When done, take a brush and blot the paint on a blade or any surface you want to cover with it.
I have included two pics from an Orc's axe I have used this trick on.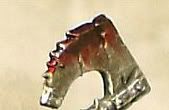 That is all folks! Quite simple and effective.