Wow - what a weekend MSS is - words cannot do it justice although many have tried given there are countless blogs, articles and picture albums dedicated to the show already. This should tell you loads about MSS - people care and love the show so much they want to share it with the world. That's exactly how it leaves you feeling; It makes you love painting in whole new ways, gives you heart and ambition and ultimately leaves you realizing that we're just a big painting family. No other show or competition has left me feeling this way - the Massive Voodoo course was close but it didn't have the shear scale that MSS has.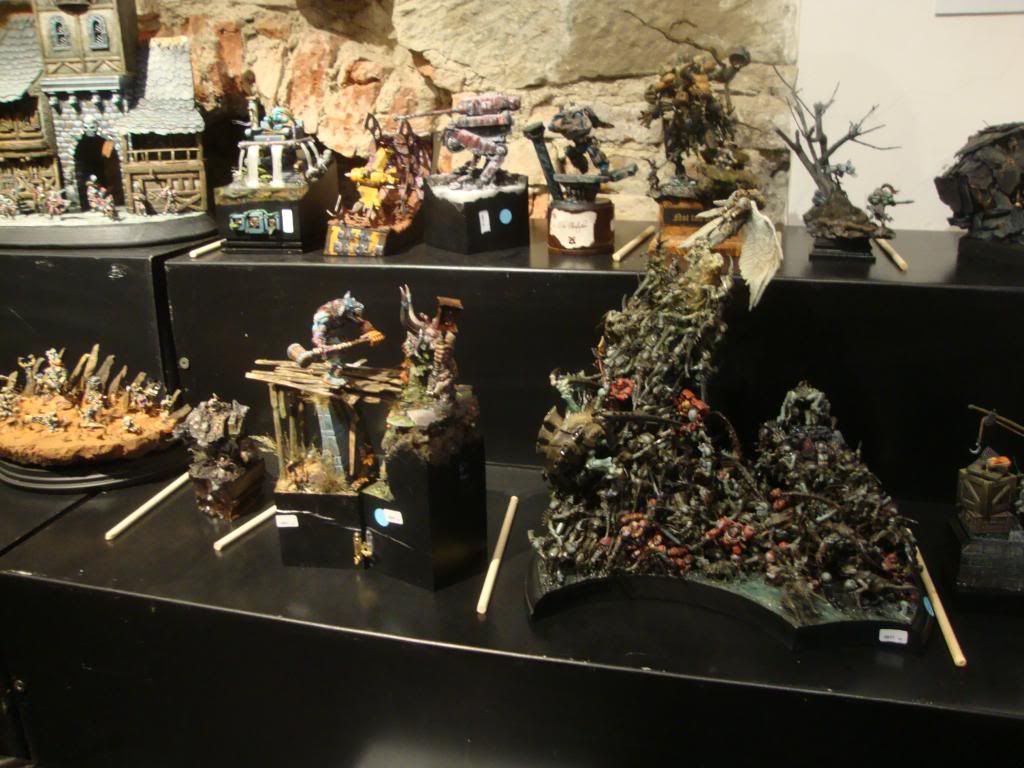 Much of what I was going to write has already been covered by Dark Messiah - my MSS traveling buddy. I suggest that to get a feel for the place you should read his coverage here, given Johns words I shall concentrate on a more practical view of mss 2013 -
http://www.wampforum.com/VB4/showthread.php?t=16341
Let me fill in the blanks starting with some logistics - Monte San Savino is located about 1hr 45mins South East of Pisa (which is served by Easyjet via Gatwick), 1hr South of Florence and about 3hrs North of Rome. Easily accessed via road, or as I understand it train. If you're not staying in the center itself (and many people don't) a hire car is necessary as I didn't see a single taxi whilst I was there.
From an accommodation point of view around 10 local places are listed on the MSS blog but I found they filled up very quickly, John and I managed to find a local B&B villa with the help from our Spanish painting friends. It turns out that there are limited hotel room spaces in the center so many people take this kind of option. If you want to stay in the center book early!
Food is easily found outside the venue and the quality throughout proved to be fantastic. One thing to note is that the show organizes a painters Saturday and Sunday lunch (€15 each) and Saturday evening meal (€25) at a local restaurant. This is great value for a quality meal surrounded by painters from around the world. Actually it's a surreal experience sat there surrounded by people who's work you've only admired from afar.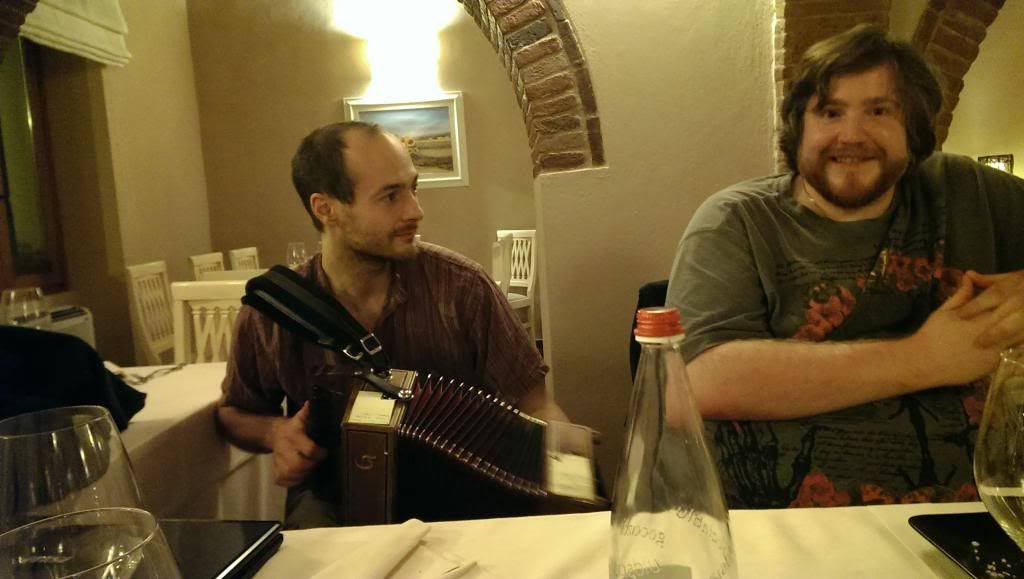 Regarding the show itself it would be easy to think that it's just for the elite given the incredible work that's on show but the reality is that the show is for everyone to enter. The competition is split into 2 areas, standard and master. Of course the master section is swimming in world class sculpts and paint jobs. But go into the standard hall and things become much more achievable for the careful painter. Talking to some people about the standard class it's more about the heart and feeling of a piece than the incredible paint job you're likely to find next door. Personally I wish every competition would consider doing this as it awards creativity as well as perfection (or as close as painters can get to this).
Its also interesting that all your entries in a particular category are placed in a group and the judges select their favorite from the group for judging. This one piece then counts for most of the points but then they look at the group as a whole. It's different for sure but seems to work well. At the point of entry you're given one sticker per category for the piece in your group you want photographed. These pictures are then published in a book of the entries and winners. I flicked through the book from last year and I must say that it's impressive in its own right, once again it just goes to show the care and love that is put into the show.
Throughout the weekend there are guess speakers in the venue, usually demonstrating their painting technique. Once again these are very well known painters and its a rare treat to see them in action. It's worth noting that on the Sunday we had the pleasure of John Rosengrant speaking through his movie creations.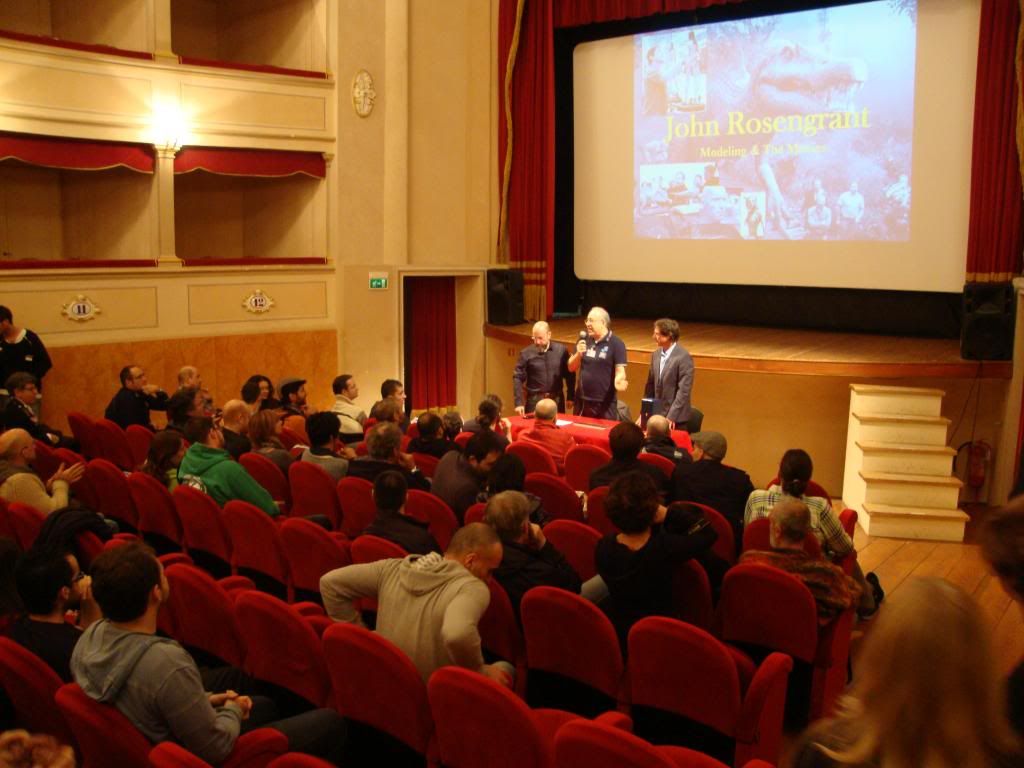 Each year they have guest judges and their work can be seen in a separate room away from the main rooms. Knowing that the likes of Bohun is judging and his incredible work is on display for all to see is an added dimension.
The display rooms stay open during the judging and the place is totally relaxed although pretty busy. Around 4pm on the Sunday the results are announced in the local theater located 2 min walk away from the main venue. Lots of cheering, clapping and pictures happen throughout and it's the happy climax for a wonderful weekend.
There are a few sellers there, but not many - don't go expecting dozens of stalls as there's 10 max. This really doesn't feel a problem though - it's certainly good on the wallet!
Reading through these words I've made it black and white, clinical - it's like this and like that. The truth is so much different - it's a crazy mix of people, the best and I mean the absolute best fantasy miniatures in the world, laughs, crazy drinks, conversations where you don't speak the same language, mutual respect and friendships.
I can't wait for mss 2014!