X-Wing games can be played on a 3'x3' foot board. It just so happens that if you turn the hinges around on a wallpaper pasting table you get a 3'x3' board and a handy carry case to store your game and 3 possibly 4 foam inserts to keep your miniatures safe.
Time required 30 minutes to an hour.
Materials needed:
1x Pasting table
Flat head screw driver
Phillips head screwdriver
Latex gloves
Plates or pan lids
Spray paints (black, white and primary colours)
Mask
Glossy magazine
B&Q currently sell pasting tables for just under £10. Automotive paints work perfectly fine, however, can be expensive. I use graffiti paints from
http://throw-up.co.uk/
Plates or pan lids will get covered in paint so don't plan to use them for food. Pan lids with a handle are perfect. I add a duck tape handle to the plates to enable me to pick them of the painting.
To begin with remove the hinges. You can reuse these, however they do overhang the bottom and will raise the board up if you're playing table if its wider than 3 foot.
Next prepare an area to paint on. A raised surface will save your back. Newspaper or a dust sheet will protect the surface. Don't paint the floor, table, fence and railings like I did! (Sorry Mrs Boyzie)
Open the table up and remove the legs using a flathead screwdriver to force the retaining washer off.
I like to use my own hinges as it allows me to have the board lay flat. However, this involves chiseling out a groove for them. I measured in apx 8" from each end.
It began to rain so I had to move inside. I would recommend putting down much more paper than I did, (confession time Mrs Boyzie) I ended up spraying our wooden floor, luckily it rubbed off with a bit of isopropyl alcohol.
Decide where you want your planet and start to lay down layers of he colours you have chosen in a circle slightly larger than the plate you will be using. I wanted a blue ice planet so began with a layer of white and then blue over the top.
Take a sheet from a glossy magazine and crumple it up a little. Place it on the planet, press down a little in random place and lift the sheet off. The aim is to remove the top layer of paint in random areas. This gives the effect of land masses, ice caps, rivers lakes etc.
To give the planet a 3D effect we need to add shadow and a highlight. Use the black on the bottom and white on the top in an arch movement.
Now place your plate/pan lid on top ensuring you get a little of both the shadow and highlight.
This technique can be used for any size planet it just depends on what you use to mask it. Here I use a spray can top with a little blutack to pull it off with.
Spray the whole board black. Don' worry if you miss bits, we are looking for a random look at the end.
To paint star bursts spray a colour down from apx 8" in this example I use blue, lightly spray white in the middle. Hold a piece of card close to the surface and spray the bottom of the card with white. Repeat to form a cross.
You can also see that I have started to randomly spray different colours across the board. This gives the impression of distant nebulae etc
To create the comets simply place a can of white upside down on the board and tap the bottom.
Spray white onto your hands and flick it across the board in random places to give you the stars. Yellows, blues and reds work well also.
Now for the best bit, the reveal. Lift of the plates and enjoy.
I now add a layer of varnish to protect it.
Here you can see it in action
Another example with an asteroid field
Short video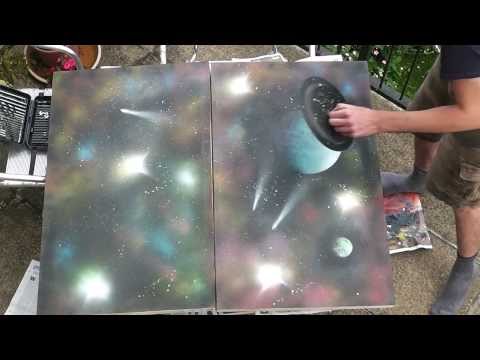 Long video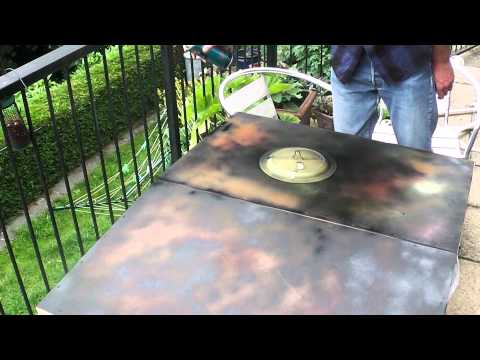 I can also make these to order