Offensive Miniatures: FNBR106 - British Peninsular war casualties: 28mm metal figures
British-Peninsular-Header.png
The Napoleonic wars offer an iconic wargaming period and the Peninsular wars are a strong and varied division within that well known war. When I think 'wargames' I conjure up the Napoleonic games my father used to play (the less sunnier ones were his favorite but all climes were played at some point) and I recall painting quite a lot of little figures to stand in rows and march in columns when I was in my youth (I never gamed with them but there were a lot of them!).
As a result I had a bit of a trip down memory lane when I got a little package in the post of wargaming casualties from the period from the mini maker 'Offensive miniatures'. How things have moved on from the past! All seems to be considerably better in terms of detail and sculpting than in the 'old' days.
Offensive miniatures 'Follow the Drum' range covers a variety of wargaming periods from the 16th to 19th century and the figures arrived in a sturdy blister with a bright orange packing card (with a useful health warning in case the figures are mistaken for a snack or you take a fancy to poking an eye out with one) and label, with a further bag inside. This ensured the figures and accessories traveled safely and that is important as there are lots of rifles and bayonets sticking up that would otherwise risk being bent or broken. As things turned out all the casualties arrived in their original wounded state with no further transit injuries.
Offensive miniatures describe the pack as follows;
"Give your unit some variety with this pack or just use them as casualty markers. Contains 9 figures, 4 lying dead and injured on the ground, 5 falling or sat on the ground, comprising of a mix of drummer boys and young soldiers to provide a variation to your unit. Also included are two muskets to position as you want and a pile of equipment (drum,backpacks etc)."
I really liked the additional touches with separate muskets and the bundle of equipment, which gamers could use as a marker and everyone else might find a useful space on a diorama for.
The figures are well sculpted with lots of detail (you can pick out the bandsman stripes on the uniforms of the drummer boys as well as the drum detail) and they have character. I like the seated drummer in particular. Lots of character, good pose and an interesting take on the period. Its good to see something other than 'men marching' and 'men in rows'.
I think the two drummers (one sitting, one prone) are the most interesting figures in the pack from a painter's point of view, lots of different things to explore and some research required to get them just right. They also illustrate the historical peculiarity of sending young boys to war to beat time for marching troops. Its good to see some thought being given to the age of combatants so the modeller or the gamer can represent reality more accurately and you can see the difference in ages in the sculpts in all the models, which is a real positive. It takes the uniformity of a dull line of identical people memory indeed and slaps it to the ground with a musket ball.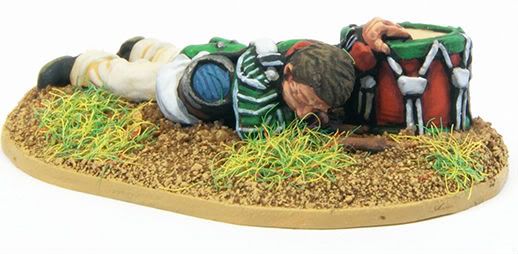 All the poses on the figures are different, the rest of the men from various companies are in the different stages of being hit in the line or falling down on the ground in it and the sense of casualty is neatly done without ripping off a head and being excessive about it. The poses appear realistic enough and the faces have suitable expressions to match.
All the minis have an integral base which can be a little vexing but it could be easily clipped off or hidden inside a base / bit of groundwork and, as integral bases are quite standard stuff in this scale, its not something to make a huge fuss about. If you don't like them at least you can be consoled with the fact they are not very big!
The quality of the castings is very good and the minis are clean and tidy, there is little flash and as they are one piece, nothing complex to assemble. The proportions are good and they don't seem to have big heads or little legs as can sometimes happen with small figures.
While the pack is targeted at the wargamer, the painter would enjoy these I think and there is potential for a small vignette or diorama with some 'action' going on. Capturing a moment in time is well done in a small scale and as a result they transcend their standard market and become more interesting. There are some great colours and little differences in line, flank and centre companies of this period and they made a real splash on the battlefield.
There are a huge number of Napoleonic minis out there and recent plastic ranges from the likes of Warlord Games and the Perrys swell the ranks at a competitive price, so if gaming or painting in this scale the modeller is quite spoiled for choice. I think these little minis hold their own however in a crowded market for a few reasons. Firstly they are finely detailed and well cast and look the part, secondly they are varied and not just standard replicants of each other and lastly, and importantly, they cover off soldiers being wounded and killed which was a massive feature of wars in the line and column. They are not just counters either, they have character.
I think they would line up well with other figures from a crowded period and make a nice change for the painter too.
Ratings
Quality: Excellent sculpting, good details and very well cast.
Assembly: None required.
Value for Money: Well priced for the number of figures you get in the pack and the quality of figures and packing materials.
Overall: I like these, they hold their own, they have character and there are individuals in the pack not just a mass of little men.
Offensive miniatures can be found at;
http://www.offensiveminiatures.com/index.asp