This is third mini from a brand new company, Infamy Miniatures run by Jamie Griffiths.
Contact: www.infamyminiatures.com/index.php
Material: Resin, 9 pieces to assemble
Scale: 32mm
Cost: 14.99 GBP
Sculptor: MIKH
Limited first casting of 250




Welcome to the Big Smoke!

It is the late 19th century and a technological revolution is sweeping through Great Britain. Sparked by Mycroft Holmes' creation of the Cogitation Engine - an advanced version of Charles Babbage's Analytical Engine - the nation's capital is caught up in a wave of invention and discovery...
So let us meet our character. According to his creator Sir Arthur Connan Doyle, Dr John Watson is described "as thin as a lath and as brown as a nut." In subsequent texts, he is often described as strongly built, of a stature either average or slightly above average, with a thick, strong neck and a small moustache. Watson used to be an athlete: it is mentioned that he once played rugby for Blackheath, but he fears his physical condition has declined since that point. Watson is described as a crack shot and an excellent doctor and surgeon. Intelligent, if lacking in Holmes's insight, he serves as a perfect foil for Holmes: the archetypal late Victorian / Edwardian gentleman against the brilliant, emotionally-detached analytical machine.
However, in creating the world of Infamy, Jamie Griffiths describes Watson with a twist. In this setting, doctor John Watson provides a level of terror to the command structure of the Baker Street Irregulars.
He is the twisted, extreme and somewhat psychotic counterbalance to the calculated threat and intellect of Holmes. Rightly feared for his experimental surgical procedures and ever evolving and increasingly convoluted torture techniques, it is when Watson combines his brawn with Sherlock's brain that total carnage is guaranteed on the streets of London.
The model came in a plain cardboard box with firm foam inserts. Those help protect the miniature which is packed in a plastig zip bag. This way the miniature is safe and secure, although the overall look of the packaging would be better if the cardboard box was printed. The miniature comes with a 50 mm round lipped base and a limited edition run art certificate. It is a 55 x 85 mm card with a photo of a painted mini on one side and a concept art on the other along with the issue number and the gang logo. Although this mini will be used for gaming (once the rules are finished), it has that special, collectible feeling.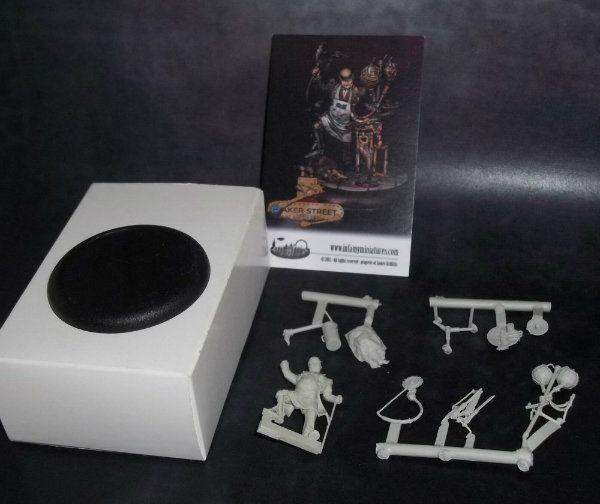 The story behind the character is truly personified in the miniature itself. The sculpt is relatively simple in it's form, but has many, many details which come more apparent the more you look at it. Watson is standing on a bag of body parts with his mechanical leg which gives the miniature it's steampunky feel. His built is exactly as Sir Arthut Connan Doyle described, with athletic looks worn down by age and curry during his Indian escapades. The bowlerhat is a bit small for his head but oozes character. In his right hand he's wielding a buzz saw. He uses his left hand to prop himself against a stand with all sorts of devious surgical equipment. All this is packed in a relatively small 32 mm figure which is a great sign of the sculptor's greatness.
The casting is extremely detailed, smooth and sharp. The details, of which there are a plethora, are clear and precise. The best example are the scissors in his apron's pocket as well as the pistons on his mechanical leg. Other 8 bits on the three small separate sprues are also of great quality, with every single small detail, like the bit with all the various saws and knifes, clearly shown. Also, one must note that there is a need of some minor removal of the casting leftovers, but none of these reduce the quality of details on this extraordinary piece.
To conclude, this miniature is a great collectible and it will be appealing to most of the painters as the details of the cast will bring out the best in every painter. I believe it will be a great showpiece model, as for gaming (which I believe will become it's purpose sooner or later as Infamy Miniatures intend to release a SteamPunk Skirmish game based on these models) I'm not so sure. Lot's of small bits and pieces poking everywhere, in my experience, always proves tough to play with and even tougher to transport.
That said, I can't wait to start paintingthe good doctor and am looking forward to new models from Infamy miniatures, like Frank Hyde, Peter or Tallulah Belle!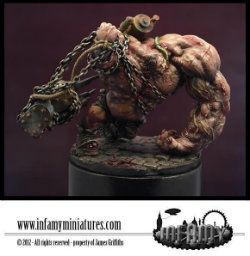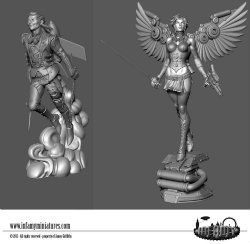 Quality: 10
– Model oozes character with incredible details and originality, yet is readily identifiable.
Assembly: 9.5
– No bubbles, flash leftovers are minimal and the parts fit perfectly.
Value: 9.5
– 14.99GBP without postage is a bit steep, but the quality of the model warrants it.
Overall: 9,5
- One of the best miniatures I've had the privilege of holding and I'm not giving it a 10 simply because I hope someday I'll get a better mini. Maybe.