Ammon miniatures is a company from France that produces miniatures under the motto: ď****iní crazy stuffĒ. They sell a collection of unusual, comical miniatures.
The miniature: Gobleon, resin, Ä12.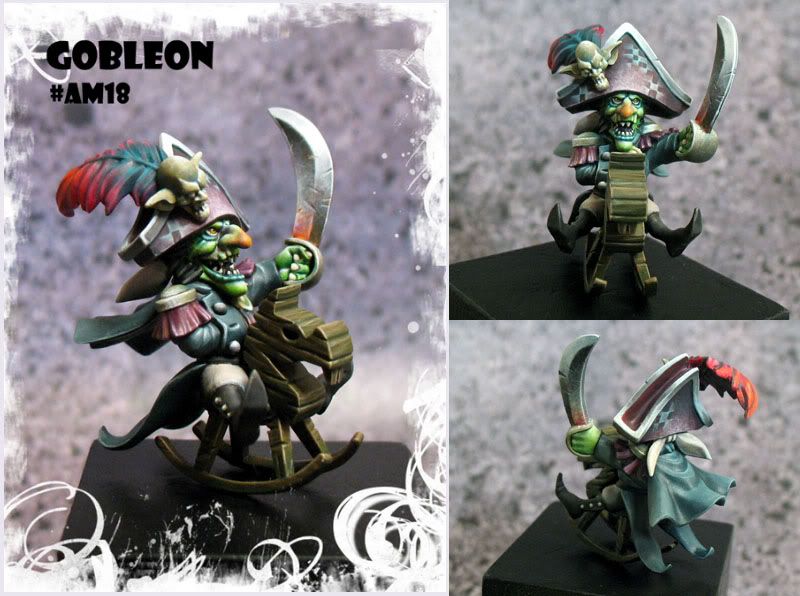 Gobleon is a multi-part resin miniature, sculpted by Karol Rudyk. Itís made in 32mm scale, the height of the actual mini is 35mm. The mini comes in a plastic bag wrapping containing a multipart mini: the main body + face, a cape, a coat extension, separate left arm, hat decoration and a 3 part rocking horse.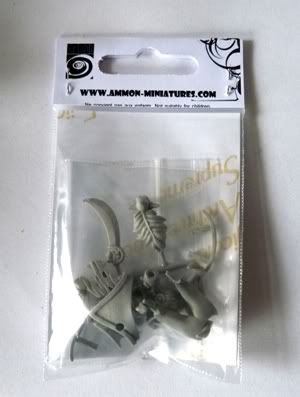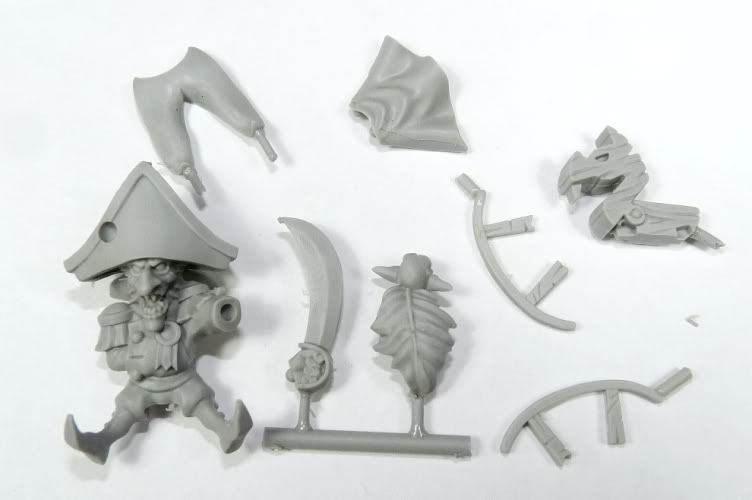 Sculpt and assembly
The sculpt has a cartoony style, and in combination with the character being a goblin, this results in very non-realistic body ratios. But of course, with this mini thatís not what youíre interested in anyways. It is a very three-dimensional miniature, and every angle of it has its interesting parts.
Assembling this miniature is very straightforward. Each part is prepared with holes and/or protrusions that fit very well. The separate parts of clothing do not contain such features, but the shape fits the main body so well that only a bit of glue is necessary. Therefore, no pinning is required when assembling this mini. One thing to keep in mind is that painting this mini takes some careful planning, because you cannot paint it easily after itís been completely assembled.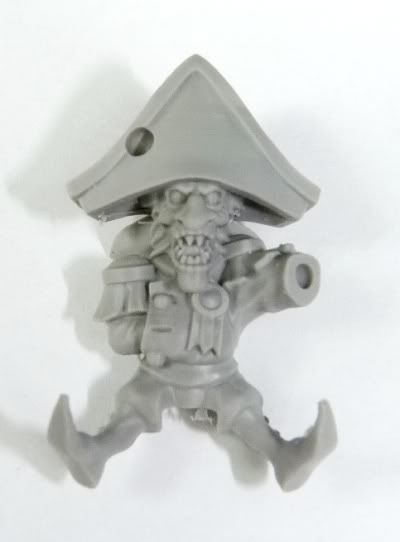 Cast Quality
This style of mini does not carry a lot of small details. On the contrary, the sculpted details (for example the buttons and seal on his chest) are exaggerated in size. It also translates in a very good quality cast. The resin feels really sturdy; itís quite hard and not flexible. None of the parts are miscast or misshapen. I have not found a single air bubble, and there are only little bits of flash that need to be cleaned. Some attention does need to be given to cleaning some very visible mold lines. There is one mold line of the cape that should be very easy to fix. The mold line on the side of the body requires a bit more attention. What mostly worries me, are the bits of sprue that will need to be cleaned. They are on almost all pieces, and need to be really carefully removed and cleaned, especially on the fragile bits of the rocking horse.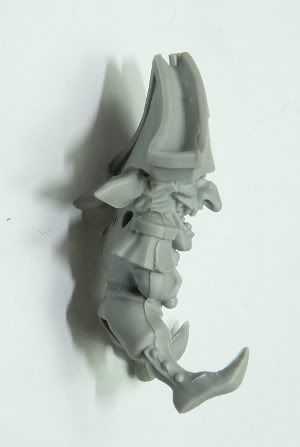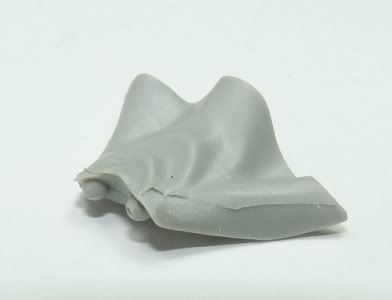 The Verdict
For me, this miniature is totally in line with the companyís motto. Itís a funny, straightforward mini with not too many embellishments. I think this mini will look great when painted on display level (as you can also see on the box art), but it will also do very well on tabletop level and it might be funny to use it in your army!
Quality: 8.5 / 10 Great quality, unfortunately some difficult clean-up is necessary.
Assembly: 9.5 / 10 Everything fits perfectly, a real no-brainer.
Value: 9 / 10 For the quality of the resin, the amount of bits, this price is not bad at all.
Overall: 9 / 10 This is a great quality miniature which will be a lot of fun to paint, Iím sure.