In this review we take a look at a few resin display plinths from Model Display Products.
From their website:
Model Display Products are here to provide our customers with a wide variety of display plinths and bases which can be used to customise your miniatures/models for display, table top war gaming or to help you win that all important trophy in the painting competition.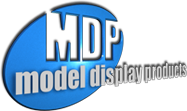 MDP is a company run by Martyn Dorey, and sells a great deal of hobby products such as a large variety of resin display plinths & blocks, gaming bases, pigments etc. To help your wonderfully painted miniature stand out the way it deserves, you can use display plinths of all sizes and shapes made from wood, resin or other material. MDP sells display plinths made of polyurethane resin.
This review is based on the following resin plinths:
- 38x38mm square top display plinth (no pictures by me); Ä4,84
- 40x40mm square top display plinth; Ä5,44
- 32x40mm round display plinth; Ä3,63
- 34x15mm round display plinth; Ä2,42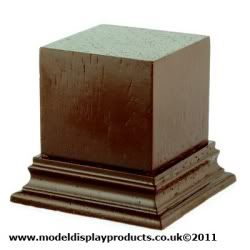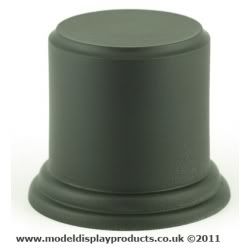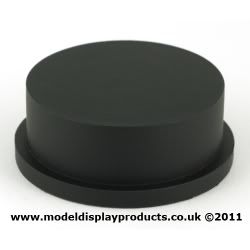 The plinth were ordered on a Friday afternoon from the MDP webstore, and shipped on Monday to arrive at my doorstep 3 days later. Customer service was very clear and every step of the process an email was send by the store.
The plinths arrived in a hard cardbox box, packed in zip-lock bags. Each bag contained a plinth and a piece of felt to stick under the base (except for the smallest plinth). The felt part surprised me, as there was no mention of this on the store website. I think it's a great addition to the plinth, especially if you intend to put your plinth in a glass cabinet.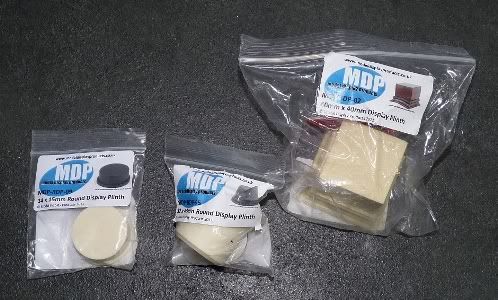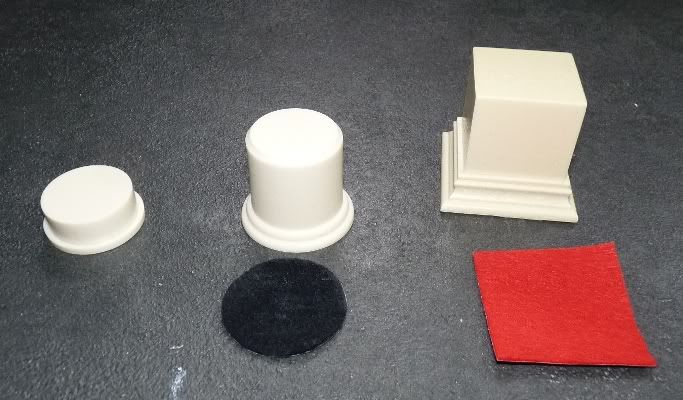 Quality:
The resin casts were very clean, I didnít find a single bubble, mold line or flash on any of the plinths. The sharp edges of the square bases are really sharp and the shape is as tight as can be. The details, like the decorative step on the bottom are also cast really well. Basically the bases do not need any clean up. But if you want, the resin can be sanded.
The bases are made of solid resin, are therefore quite heavy and will not fall over easily (the lower edge will also make sure of that).
A funny thing to note is that, while the round bases and the 38mm square base all have a smooth finish, the 40mm square base has a wood grain texture. This is something to keep in mind while ordering, because there seem to be a few more bases with this texture. I think the texture looks really good, and when painted in the right colours it can truly look like a wooden plinth.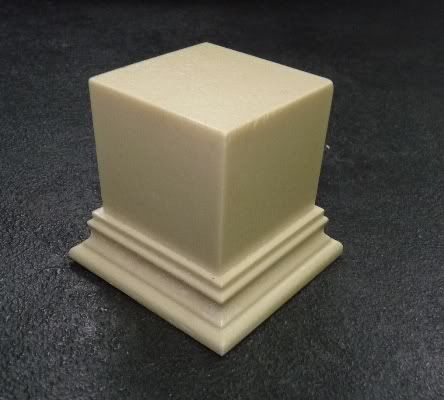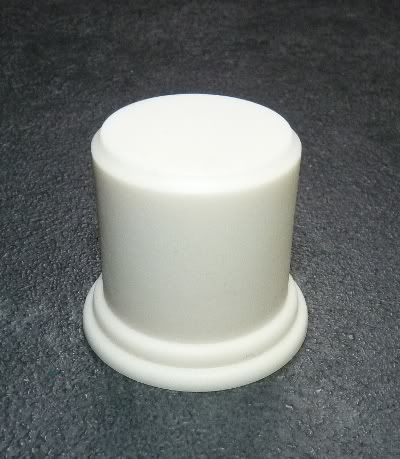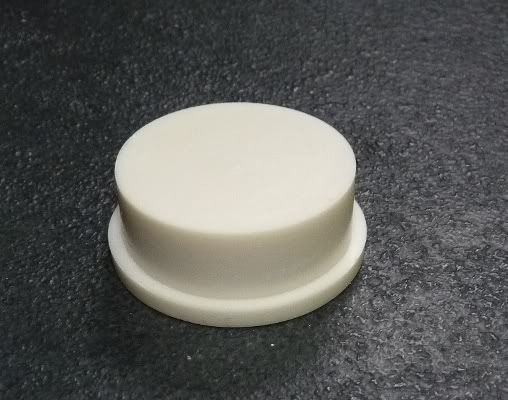 Overall:
Iím extremely happy with these plinths. They can be primed with hardly any preparation (just wash it with some soap), and painted to your liking. The felt stickers are a great addition, but it takes some patience to get them off the protective paper.
The prices are very reasonable for the amount of resin that you get. Especially the square bases are quite heavy. For a special project, I think itís absolutely worth it! MDP also carries some cheaper alternatives, such as resin display blocks. And I do hope that the range will expand even more in the future!