Review: Privateer Press - Earthborn Dire Troll
Introduction
Give a big hand to another monster model for the blue skinned trollblood race.

Privateer press (PP) are an American mini company who produce a number of games and races to match them, among them Hordes and the Trollblood, a savage, monstrous, mainly blue group of monsters with attitude.
The fluff for these minis is freely available on the net and via PP publications (see reference section). Not a gamer myself as I don't have a pair to play with) but it seems a popular and well supported gaming system.

PP say of the trollbloods;

"For centuries they have seen their sacred lands taken and their numbers diminished. Now the human nations have brought war to their last refuges in western Immoren. Banding together with their less civilized kin, the trollkin are on the warpath united with heavily armed trolls and the wild dire trolls. The Trollblood march to war to claim what is theirs."

The models for the trollblood have an attractive monster style and the earthborn troll is a model in a line of large handed, savage looking, large beasties in dynamic poses. These are the tanks of the game and posed to suit. The style is distinctive and consistent..the trolls are heavy built, have proportions that emphasise large hands and bodies and generally have pretty big teeth!
This model comes in a PP box with attractive artwork and a small assembly guide on the back in the style of the ones found in GW packaging, with an exploded diagram of the parts included.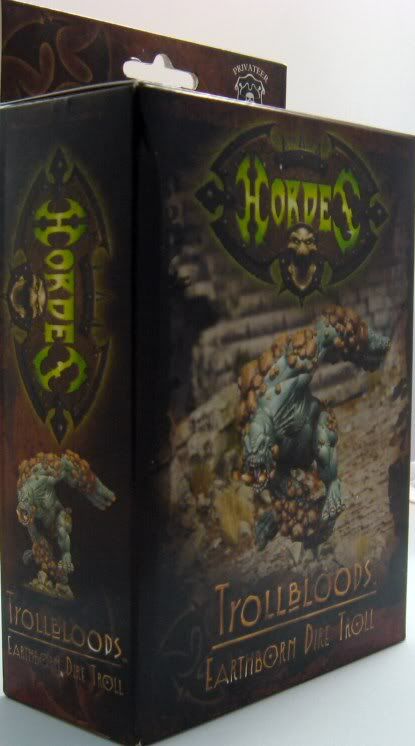 Inside the box is a plastic box holding the 9 pieces that make up the kit, plus a base and rocky insert. This box helps keep all the pieces safely undamaged in transit.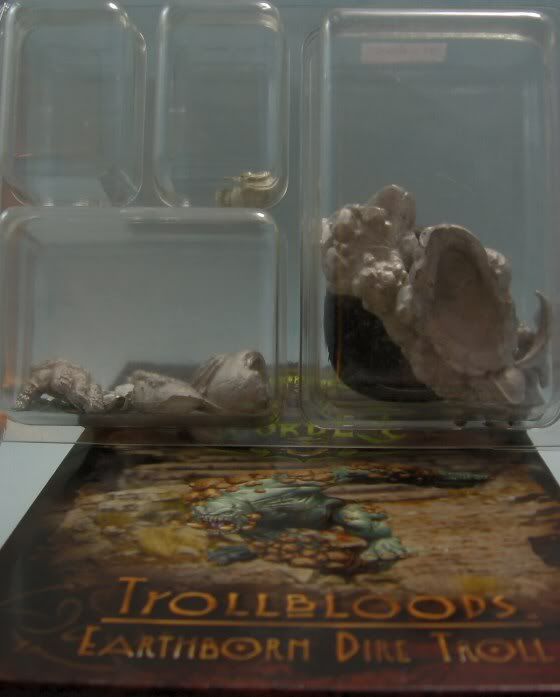 Quality
The kit is heavy and well cast and the sculpture retains a good level of detail. There are large locating lugs on the different elements to help with assembly and a large plug in the hand to attach to the custom base, if so desired.
There are a number of mould lines, some running in areas which will require filing and filling and other attention to produce a polished piece. There are various lumps and blemishes on the casting (that are not the rocks the troll has in its skin) which will need a good polish off.
In short this is not a model for anyone who doesn't want to spend time on cleanup.
The overall package is well put together however and feels like a professional item. Anyone familiar with PP products will know what to expect from their large metals and indeed Mike Mcvey (fundamental to the start up of PP) has previously commented in the No Quarter PP publication that assembly issues are to be expected with big metal models of this kind.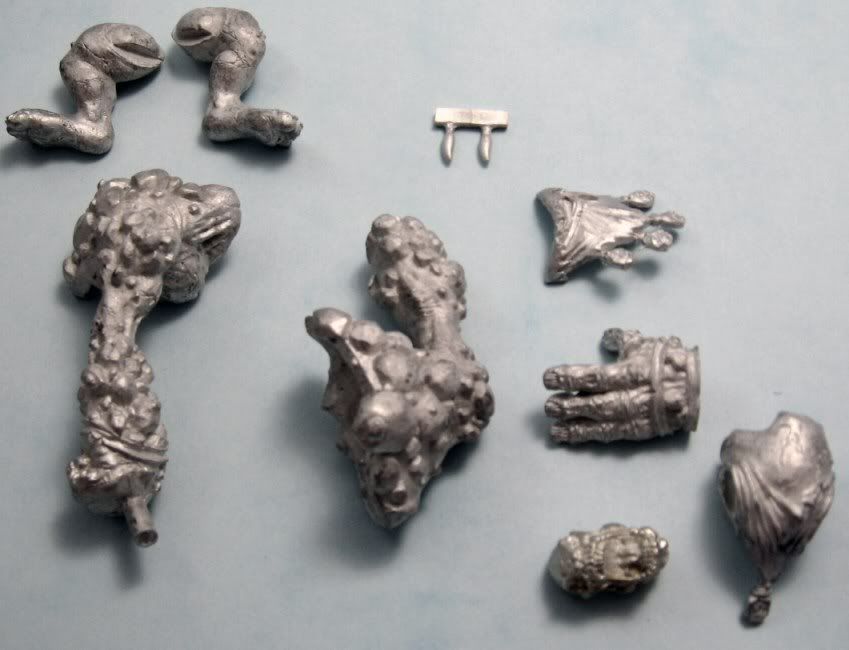 There is a lipped plastic base provided with a cast insert to allow the troll to be attached in a leaping pose, propelled by its huge hand in the style of a massive ape or primate. While some people might prefer to make their own base, this is a useful addition for gamers who might want to standardise their models for a consistent look. The piece is well cast and if not needed as a base might make a handy crystal outcrop etc in some other project.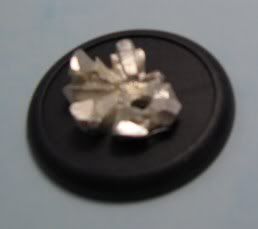 Assembly
The parts are large and as noted previously all in metal and as such don't nestle together as resin or plastic might do. Pinning would look to be vital to ensure the model remains stable and having the putty on standby to fill those unsightly gaps will be required. The pivot point for the model is the big fist that rests on the floor and the arm will require a very secure attachment as a result.
There is nothing here however that a reasonably experienced modeller would not be able to cope with and the reward will be an attractive, paintable model that feels hefty.
Value for money

PP products are not cheap but you do get a lot of metal for the money in weight terms and the style is consistent, fun and distinctive. This model was £26 including postage and for a sizeable model of good quality this seems reasonable but not astounding value.
Summary

Pros
Great style and consistent with the trollblood range, if you like PP, game Hordes or are just looking for a monstrous change, this is a great model to buy.
Cons
Large amount of cleanup required and potential issues with assembly due to poor fit.
Verdict

A little like Marmite, these models are love them, hate them (and not always very palatable on toast). I like the style and love the look of trollblood and in the context of their race of models, this one is near the top of the large handed ape like pack. It feels like a model for painters as well as gamers, with something for both groups to make the most of.
References

Gaming with trollbloods
http://sites.privateerpress.com/HORDES/default.php?x=world/trollbloods
Painting hints
http://blog.brushthralls.com/?page_id=4015
Hordes game background / information
http://privateerpress.com/HORDES/
Scores

Quality
: 8/10
Assembly
: 6/10
Value for money
: 7/10
Overall: 8/10