This week WAMP announced the collaboration with Freebooter miniatures for a WAMP specials contest. Enough reason to write a review on one of their miniatures. This should give anyone not familiar with Freebooter some idea what can be expected, but might also inspire some of you that already own some of their miniatures :)
This review focuses on Pehua, a metal miniature produced by Freebooter Miniatures. This miniature can be used in a game called Freebooter's Fate. It can be bought as part of the starter box of the Amazon crew, but it also comes in blister pack for €10,90.
About Freebooter Miniatures (from their
website
):
Freebooter Miniatures is a small range of 30mm metal miniatures intended for everyone who appreciates something special. The miniatures, lovingly sculpted by Werner Klocke and friends with a sense of humour and an eye for detail, will be a distinctive addition to your existing collections and games.
The miniature: Pehua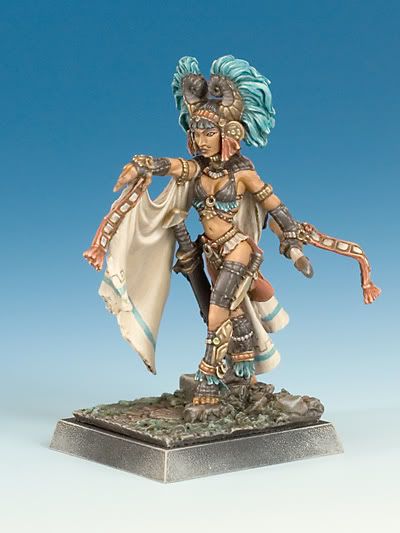 Pehua is a multi-part metal miniature. The mini comes in a blister package containing: the mini itself, a sculpted metal base, a 25 mm recessed plastic base and 2 playing cards for the Freebooter's Fate game.
The miniature is a kit consisting of 7 parts and has an overall height of approx. 42mm. The body from head to toe measures approx. 33mm.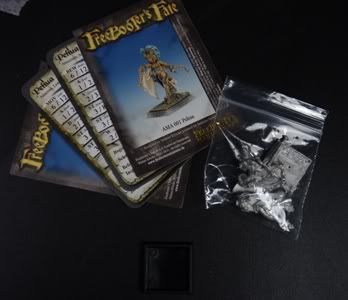 Sculpt and assembly
The sculpt shows Werner Klocke's (the sculptor at Freebooter) signature, with feminine shapes a triangular shaped face and large eyes. The curve in the body and the folding of the cloths makes the sculpt very dynamic.
The miniature comes in six pieces: The main body, the head, the right arm with cape, the left arm, the left hand and a small bit with weapon accessories.
The pieces have specials holes for assembly, but I think that some additional pinning is required, especially for the arms. The pieces fit each other quite well, but some gap filling will be necessary after assembly. Assembling and prepping this mini is probably not the easiest thing to do. It also requires some planning, because assembling it completely before painting, will make some areas very difficult to reach. Hence, I don't think this is a mini for beginners.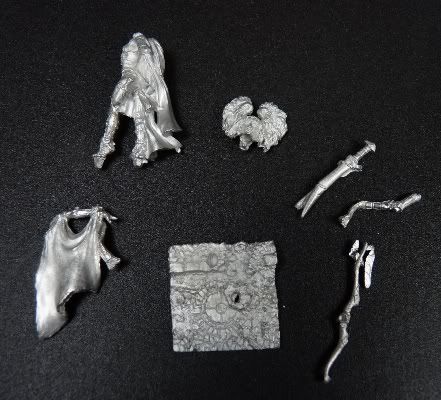 Cast Quality
There are many small details sculpted on this mini. The metal cast really captures all the details that can be seen on the original green sculpt. The cast doesn't require a lot of clean-up. There is very little flash, and the parts that do show are easily removed. Tiny mold lines can be seen under magnification (see detail pictures below), but this will probably disappear with light sanding. The cloth parts might require some milliput washes, because there are some minor irregularities. This is often seen with large flat areas on metal minis, and is very easy to fix. The index finger of the right arm is slightly miss-cast, but as it is so small I don't see many issues with that. In general, I am very pleased with this cast quality.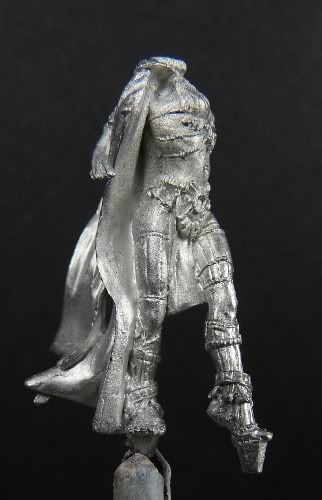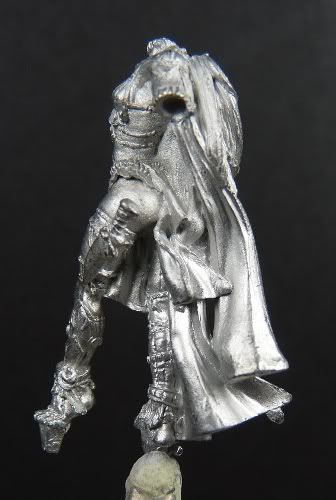 As I mentioned before, Werner Klocke's sculpts are easily recognizable, especially when looking at the faces. The cast of the face is impeccable, and is perfectly sculpted up to the tiny beauty mark.
Here are some detail pics: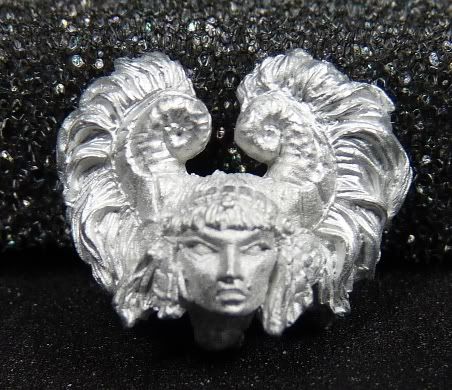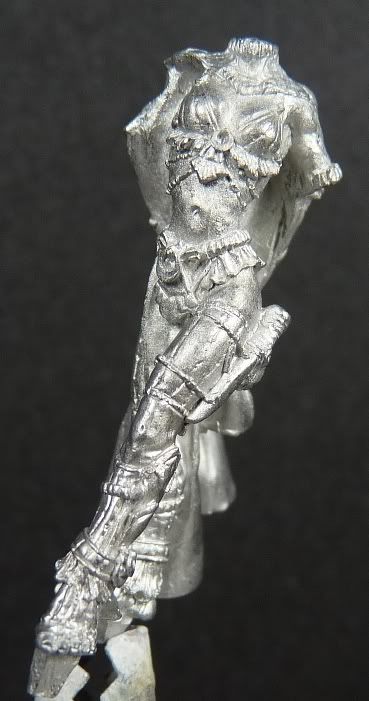 The Verdict
Quality and sculpt-wise this is a great miniature. The paintjob on the Freebooter website (by Jennifer Haley) shows what can be done with this lovely piece. The mini holds true to the Klockenbooty legend, and has many tiny details that are coherent with Freebooters line of miniatures.
However, I don't recommend this miniature for beginners. The assembly of this miniature will probably be quite difficult (I haven't actually assembled my copy yet, so I could be wrong with this), considering all the small parts and the filling. Personally, I think the difficult part is painting the mini while assembled, or putting the parts together after painting them separately.
Overall, I do really love this miniature in all it's glory!