Recently I purchased the Andrea Colour White Paint Set to help with the shirt I wanted to paint for Ray from Hasslefree. Described as the easy way to paint white clothes I thought I would see if thatís a true reflection of the product.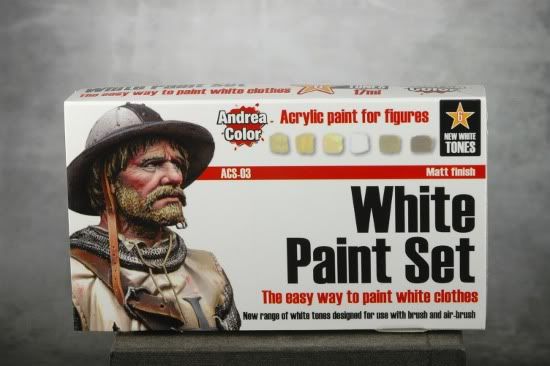 To begin with the box set contains 6 paints; 1 base colour, 3 highlights and 2 shadows. It also comes with an instruction sheet that describes the mixes you need to use for each step. All of which is in a handy box that keeps them together and neat. The price of this set was £15.30 from Arcane Miniatures and given thereís 6 17ml dropper type bottles of paint the price isnít so bad.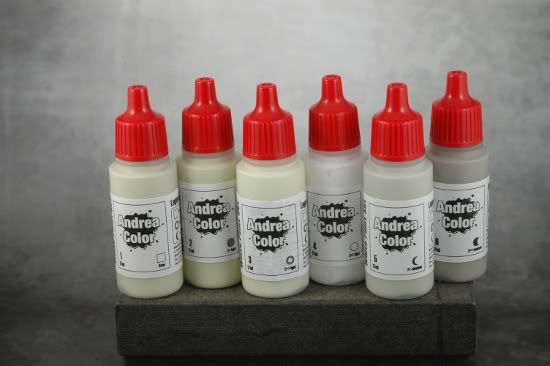 Whilst the instruction set doesnít go into the technicalities of applying paint it does give you a step by step guide of which paints to use and for what. Interestingly each step of highlights and shadows is made from a mixture of the different paints rather than a single colour from each pot. In short, from a base coat 3 successive highlights are added followed by a couple of darker shadows.
I must say that Iíve found these paints extremely easy to get smooth and well blended. One of the problems many people mention when painting white is the tendency for it to become chalky or unsmooth. At no point did I find either of these things occur although of course thinning paints helps with the second problem. The base coat covered well although not as good as the GW foundation paints. The transition between each successive layer was subtle almost to a point where itís difficult to see the difference. That said I guess thatís exactly what youíre after!
The final result gives a cream/yellow hue to the white clothes. To my tastes thatís a really good look for historical or maybe fantasy clothes but probably isnít as suitable for modern or sci-fi cloths as weíre more used to seeing these with a white/blue hue. That said Iím extremely happy with the finished look of my figure even though itís of a modern subject.
In conclusion Iíve found the set to be a practical, easy method of creating white/cream clothes with a minimum of fuss. This isnít the be all and end all of white clothes painting as the finished result is pretty limited even though that finished look is good. However as a secondary benefit I could see myself using the set as a guide for mixing your own colours (like white and blues for example) which could be quite beneficial.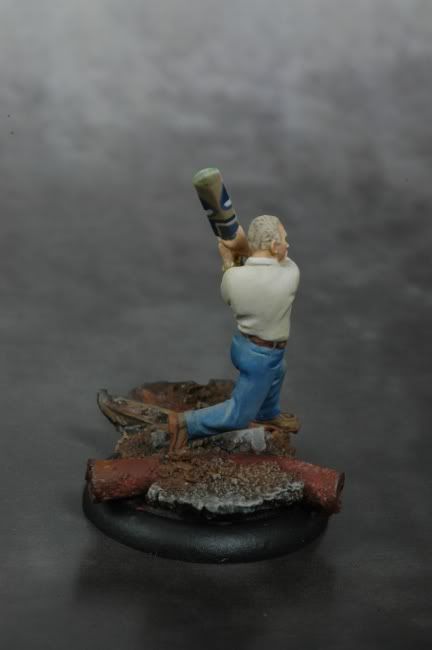 Quality Ė 9/10, great set that does exactly what it says on the tin
but the instructions could be little better.
Value Ė 8/10, the price for painting white cloth is high but you do get 6 17ml bottle of paint.
Versatility Ė 4/10, 6 interesting colours you could use anywhere but the final result of using the set as intended will always be the same.
Overall Ė 7/10
Price Ė List price £17 but can be found for £15.30.
Manufacturer Ė Andrea Color